With over 3,000 performances taking him to all seven continents (yes, even Antarctica), Matt Jung is an in-demand bass player on both electric and acoustic instruments.
Matt grew up in the suburbs of Chicago, playing the piano, oboe, and saxophone before ever picking up a bass at age 12. But once he did, he was hooked.
While still in high school, Matt and his ska band had a minor radio hit and were played on radio stations throughout the country. At 17, Matt moved to Los Angeles to study jazz bass at the University of Southern California with John Clayton.
While in Los Angeles, Matt began to freelance, playing at the major jazz clubs and for various film scores. One of Matt's jazz groups was hired as a featured group for the 2006 Peru International Jazz Festival in Lima, Peru. Matt completed his music degree at USC in 2008.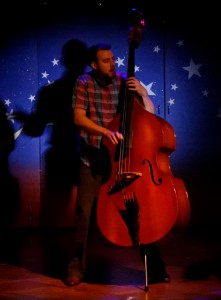 Matt has also spent a great deal of time in music education. He helped create the Los Angeles Youth Jazz Ensemble, a jazz band for outstanding high school musicians in the Los Angeles area, and served as the group's assistant director for four years. Matt has also served as the middle school jazz band director for Foshay Learning Center in South Central Los Angeles, as well as teaching bass privately.
Matt has also played bass on cruise ships for Princess, Holland America, and Norwegian Cruise Lines, and spent over two years as bassist and musical director for six-star luxury cruise line, Crystal Cruises.